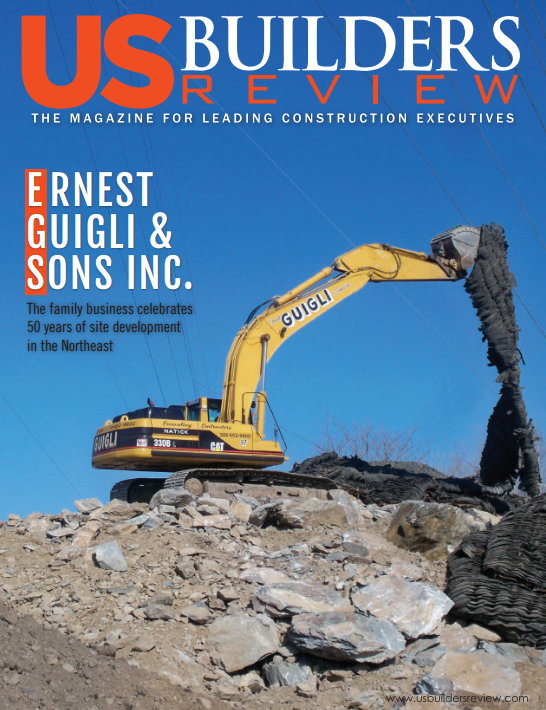 Ernest Guigli & Sons Inc. celebrates 50 years
The family business celebrates 50 years of site development in the Northeast
Produced by Kyle Gahm and Written by Tom Faunce
Now in its 50th year, Ernest Guigli & Sons Inc. is a union excavating contractor and site developer in Massachusetts. As a member of the Associated General Contractors of Massachusetts, Guigli specializes in all aspects of site development, such as large scale earth moving, material processing, underground utility installation as well as roadway and parking lot construction in the commercial, industrial and municipal sectors.
Laying the foundation
The story of Guigli dates back to 1966, when Italian immigrant Ernesto Guigli made his dream a reality by purchasing his first bulldozer and incorporating the company. Originating from a small town in Italy where he studied engineering, Ernesto fought for the Italian resistance in WWII and was captured by the Germans, who sent him to a concentration camp in Dachau, Germany. After his release, Ernesto moved with his wife, Maria Teresa, to the U.S. to pursue better opportunities. Upon arriving to the U.S., Guigli began working as a mechanic. With the intent of starting his own business, Guigli mortgaged his home in order to buy his first bulldozer—a bold move for a father of four—and start his new venture, which would become Ernest Guigli & Sons Inc.
Guigli's philosophy was very simple: have the best equipment run by the best operators and put client satisfaction above all else. His youngest son, Robert "Bob" Guigli, joined the company full-time in 1979 after graduating from Worcester Polytechnic Institute with a degree in civil engineering. At the time, the company was transitioning from an equipment rental business to a subcontracting company, working heavily in the private sector and performing large scale site projects for high tech clients such as IBM, Raytheon, Prime Computer, Motorola; pharmaceutical clients like Astra, Lexigen, Wyeth, Water's Associates; and private clients like Boston College, MIT, Tufts University, Babson College, Wellesley College, Groton School,
Middlesex School, among others.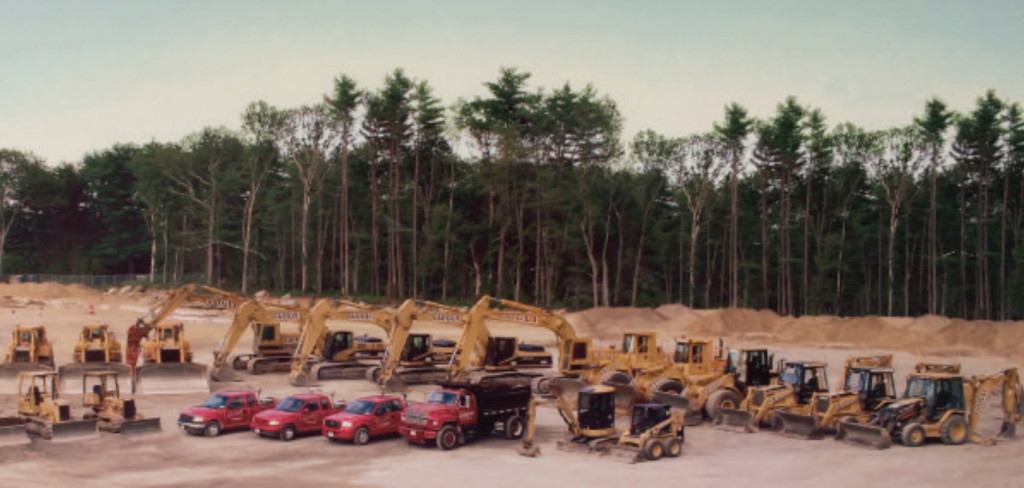 "One of my proudest moments came to me in 1989 at a retirement party we hosted for one of our talented employees," Bob Guigli remembers. As the operator who was retiring addressed the guests, he said Guigli collectively has moved a tremendous amount of earth over the years and has left its mark all across Massachusetts. More importantly, Bob Guigli recalls him saying, working for Guigli is like working for family. "I thoroughly enjoyed my 25 years of employment," the operator said. "You have always been fair, understanding and generous."
"I felt great pride at the time for his kind words, and continue to feel it every day," Bob Guigli says. Guigli has been in its third generation since Matt
Guigli, Bob Guigli's oldest son, became involved in 2005 after graduating from Worcester Polytechnic Institute with a degree in civil engineering and construction management, and today is vice president of the company. Joining the company just before the most recent economic downturn, Matt Guigli believes that the recession was one of the best learning experiences he has had. "In hindsight, it was very tough at the time, but we learned to do more with less.
I believe it was better to come into the industry and immediately learn from that experience rather than to start my career when the market was booming." Matt Guigli credits the company's ability to survive the recession to having the best employees, owning its equipment, and having a solid reputation and relationships that his father and grandfather had established over the years. "Today, Guigli continues to serve the private market but has expanded into the municipal, state and federal sectors as well. It now performs work on many municipal school and institutional projects," he says.
One example is a project that will be substantially completed this year. Guigli performed the site work that took place on the 26-acre site and included 200,000 square feet of new buildings, 160,000 cubic yards of earth moving, 10,000 square feet of retaining walls, 42,000 linear feet of utilities, two artificial turf fields, six tennis courts and expansive surrounding parking lots. Most of the site work was complete within 12 months.
"This was a great example of our typical site," says Matt Guigli. "We built it quickly, safely and to a high level of quality. It looks beautiful and we are very proud of that project."
Embracing technology
The company says part of its success comes from embracing business process engineering, communications and information systems. Guigli has always invested in technology that has improved business agility in an effort to meet client demands. Robert Guigli, the son of the founder, was an early adopter of electronic payroll in the 1970s, digital project cost estimation in the 1980s, robotics and GPS surveying methods in the 1990s.
Matt Guigli recently implemented integrated bidding and accounting software as well as a virtual desktop platform called CloudConnect. Through that
platform, Matt says it can take its "virtual office with us to client and job site meetings and operate as if we are within our physical office environment
Its people
Building upon Ernesto Guigli's founding principles, Guigli strives to seek out, train and retain the best people by making them feel comfortable and valued as a member of the team. "To be the best, you must have the best," says Matt Guigli, "and we invest a lot of time, money and effort into that."
"We truly value our employees like none other," Robert Guigli says. "We understand that what they do is very hard work and we truly appreciate their
efforts to make Guigli look good day in and day out."
A strong network
In such a competitive industry and market, Guigli stayed competitive by maintaining a personalized, relationshipbased business model. Guigli's owners are involved in each project and establish relationships with each client.
"We like to directly interact and deal with each client," Matt Guigli says. "Customer satisfaction is our priority and I believe we can attribute a lot of repeat business to that."
"It was never the goal of the company to grow to be the biggest, but the philosophy was to be the best," Bob Guigli says. "It has never been about any single job, but always about the relationships; sustainability depends on that."
While the majority of Guigli's work is selfperformed, the company often hires and relies on its loyal network of vendors and subcontractors to complete certain types of work, such as tree clearing, support of excavation, blasting, paving, curbing, fencing and landscaping, among others.
The company says a network of excellent subcontractors is crucial to its business model. "We're always open to working with new subs and suppliers and establishing new relationships," Matt Guigli says. "As my dad has always said, we are only as good as our subcontractors, so when someone has consistently performed up to our standard of quality, we will use them regularly. We usually have three to five companies in each trade that we
partner with."
Having grown up in the family business, Matt Guigli says he has gained passion and sense of pride in working for the company. His job is interactive with the community and presents new challenges every day, which are some of his favorite aspects of his work.
"It doesn't involve just sitting behind a desk every day," he says. "It is constantly about tangible progress. Through building new schools and facilities I feel we are contributing to the greater good of the community and are improving the state we live in."
Moving forward, the company will seek to expand its operations while maintaining a manageable size. As industry leaders, Ernest Guigli & Sons Inc. possesses the tools, experience and professionalism necessary to succeed in completing projects to its customers' satisfaction.
By US Builders Review
CLICK TO READ OUR RECENT COVER STORY